Tom Marfiak, '66, CEO/Publisher of the U.S. Naval Institute, was formerly Commandant of the National War College, National Defense University, at Fort McNair, Washington, DC. From 1996-1997, he served as Director, Plans and Policy (J-5), U.S. Central Command. Tom began service in frigates, destroyers, and cruisers, and rose to command, USS BUNKER HILL (CG-52) and USS KITTY HAWK Battle Group. In BUNKER HILL, he acted as Air Warfare Commander for Operation Desert Storm, directing the actions of four carriers and several hundred land and sea-based aircraft. His first flag assignment was Director Plans, Programs and Budgets for the Surface Warfare Division staff of the CNO. From 1995-1996 he commanded the Kitty Hawk Battle Group. Ashore, he served on the staff of the CNO in strategy and plans and as Deputy Director and Acting Director. He previously served on the immediate staff s of both the SECNAV and the SECDEF.

An Olmsted Scholar, at the Institut D'Etudes Politiques de Paris, he earned a Master's Degree, and at the Fletcher School of Law and Diplomacy, Tufts University, he was awarded both the Master of Arts and the Master of Arts in Law and Diplomacy. Tom also attended the National and International Security Managers seminar at the John F. Kennedy School of Government, Harvard University.

His personal decorations include the Defense Distinguished Service Medal, Defense Superior Service Medal, Legion of Merit (five awards and combat "V"), the Defense Meritorious Service Medal (two awards). Rear Admiral Marfiak has also been awarded the John Paul Jones Award for Inspirational Leadership.

Tom and the former Patricia Hurwrey of Torrington, Ct have three children, Jennifer Garland, Thomas Michael and Sarah, and three grandsons.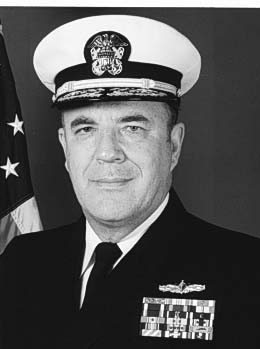 Tom is now CEO & Publisher of the
U.S. Naval Institute, Annapolis, MD