Chuck Stark, a former Navy corpsman and fan, reminisces about visits with David McCampbell towards the very end of his flight.
I cannot remember when I first met Captain David McCampbell, but I think it was before Thanksgiving, 1995. I had first known about him after they named the West Palm Beach airport terminal in his honor in 1988. Why they didn't name the whole airport after him as the City of Chicago did with its O'Hare Field, named for Lieutenant Commander Edward "Butch" O'Hare, I'll never know

I was alerted by Purple Heart Association President Morris Werner that Captain McCampbell was in the nursing home section of the Veterans Administration Hospital in West Palm Beach, Florida. He suggested that I talk with Captain McCampbell, "because the days there are long, but the nights are longer." So Sundays after church I would stop by Captain McCampbell's room and chat with him. He was hard of hearing so I had to yell to be heard, and then he would yell back. It was hard to tell if I had made him mad, so I kept my visits brief.

During that time I was involved with the Hospital Corpsman class of the Navy League at the reserve center in West Palm Beach, Florida. I got permission for the Captain to meet with the class. Sitting there in his wheel chair, he told about his experiences on the USS WASP (CV-7) and later on the USS ESSEX (CV-9). He told how he had flown a Hellcat but did not say much about the Turkey Shoot or Battle of Leyte Gulf, just that he got the Medal of Honor from President Franklin D. Roosevelt in early 1945. A few of the cadets asked him questions, but his hearing at the time was so bad that a hospital volunteer worker relayed the questions to him. At the close he, in turn asked every sea cadet a question: "How long have you been a cadet? Do you plan to make the Navy a career? Are you going to join the Navy?" Finally, the questioning period was over. He said that he could get himself back to his room, which, in fact, would have been impossible for him, so he pointed to Cadet Charles and asked, "Would you take me to my room?"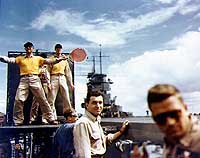 USS Wasp (CV-7) Lieutenant David McCampbell, Landing Signal Officer, bringing in planes, circa late 1941 or early 1942.

Behind him is the Assistant Landing Signal Officer, Ensign George E. "Doc" Savage. In the catwalk in the lower center are Len Ford (enlisted man) and Lieutenant Hawley Russell.

Caption details were provided by Capt. David McCampbell, USN(Ret), in 1982. Official U.S. Navy Photograph, now in the collections of the National Archives.





By that time, I had met his wife, Buffy, who told me that he had many pictures and that his mail was always full with request for autographs. "I'll bring some next Sunday and we'll have David sign them for you," she said. What a treat that was when she had pictures of the Captain with President Roosevelt, with Admiral Chester Nimitz, with Vice Admiral Marc Mitscher, and with Chief of Naval Operations Ernest J. King. Concerning King, the Captain said "He thought "J" stood for Jesus"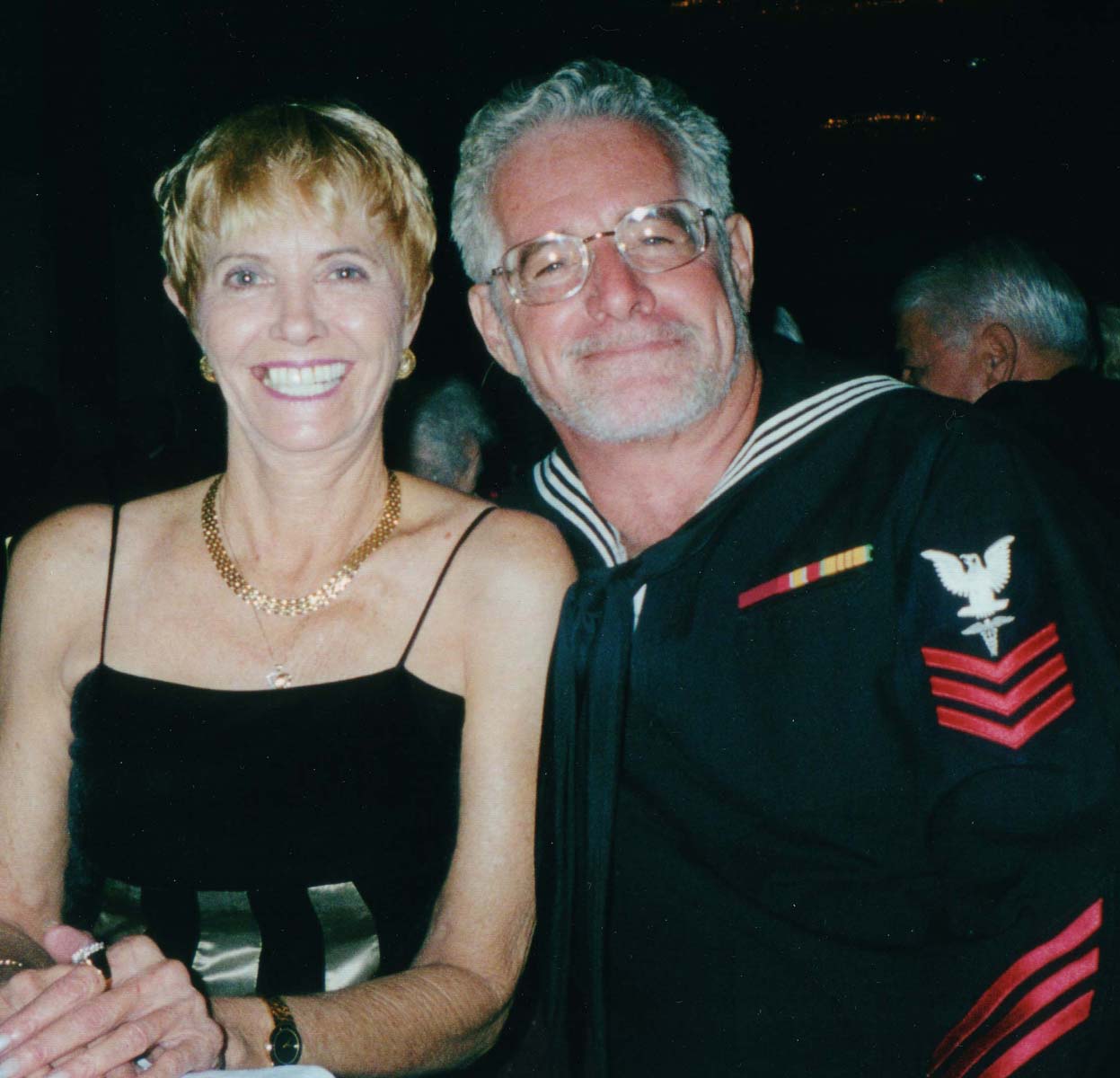 Right: Chuck and Miss Ann
One very impressive photograph in the collection is of the captain at his retirement ceremony in 1964. He is in dress khakis wearing a Medal of Honor ribbon, gold star of a past commander of a ship and Aviator wings. I daresay he is the only aviator officer in World War II to wear these three awards together. There was only one other aviator in World War II with the Medal of Honor, and that was "Butch" O'Hare. He did not survive the war.

I had been reading a book at that time written by Captain Douglas Fairbanks, Jr., U.S. Naval Reserve (Retired), A HELL OF A WAR. In one chapter, Captain Fairbanks tells about being temporarily assigned to the WASP as she ferried RAF Spitfires from Scotland to the besieged island of Malta, in the Mediterranean:

One of the Spitfires has trouble after take off and signals he Needs to land back on the WASP. Spitfires are not carrier based planes - they have no tail hook to stop while landing. The landing signals officer stands up on the deck trying to Direct this 19-year-old British aviator in for a landing. After several tries, once sending the landing signals officer Into his safety net, the Spitfire lands within inches of going Over the side.

After reading this and Captain Mc Campbell's biography, I put two and two together and realized that Captain McCampbell was the landing signals officer on the WASP.

When I asked him about it, he said "Yep, that's me."

I was able to get Captain Fairbanks's address and wrote to him about Captain McCampbell, asking if he could write him a note of encouragement, which he promptly did, sending a copy of his book with a signed photo of himself.

Having finished that book, I began a new one titled DECISION AND DISSENT by Carl Solberg, a Lieutenant in the Navy serving as an air combat intelligence officer for Admiral William F. Halsey on the USS NEW JERSEY (BB-62) during the Battle of Leyte Gulf. This was a multifaceted battle taking in many Japanese forces from all directions. The day after his nine kills, Captain McCampbell flew as target coordinator for the attack on Vice Admiral Jisburo Ozawa's northern force as Halsey sent six fast battleships racing north in battle line. When asked about it, Captain McCampbell recalled, "I had the exemplary duty of flying over the battle line, and I could see Ozawa's fleet on the horizon."

My visits became less frequent. Our last meeting was on 25 June 1996. I was amazed at the weight he had lost. I had a recent book with me. THE BATTLE OF LEYTE GULF, by Lieutenant Commander Thomas J. Cutler, U.s. Navy (Retired), which devotes six pages to his nine kills. I read the captain the highlights, and when I got to the part about "Rebel 99," he had more than a 1,000-yard stare - more like a 50-year dreamy look and the damnedest grin I have ever seen. When I finished, I asked if it was all true. "Yes," he replied. Maybe that is why he was so successful that day. He had never left a carrier with such a light load of fuel and was able to climb so fast in his Grumman Hellcat. He concluded, "The rest sounds like a lot of horse shit."

We had a good laugh. I shook his hand and said that I would be back, but I never saw him again until the night in the funeral home with his Medal of Honor, around his neck.

Rest in peace.

See photos of David McCampbell donated to squadron
by Chuck Stark: