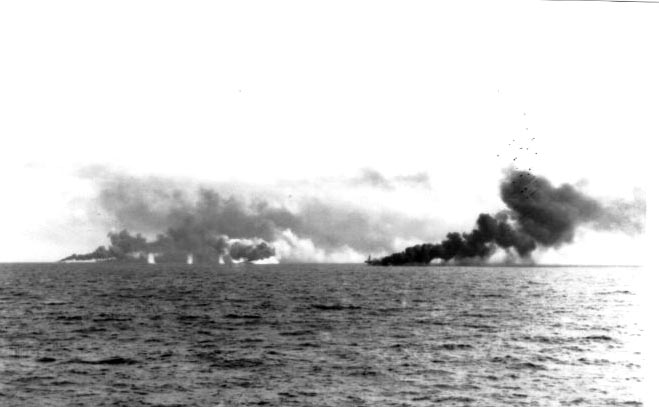 18" shells from the Japanese Battleship Yamato splash close to the USS White Planes, a CVE, and other ships of Task Force TAFFY 3. (B3)

The Yamato, WW II's largest ship at 72,800 tons carried nine 18" guns. She was sunk on 7 APR 1945 in the Sibuyan Sea by aircraft of TF 38 in a battle off Okinawa.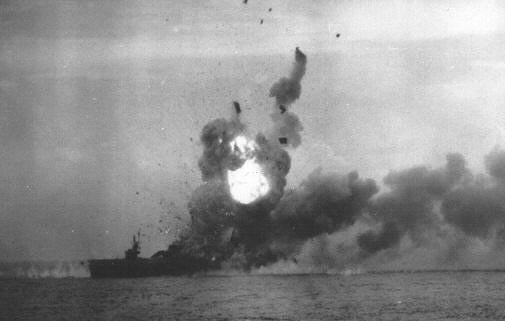 After being hit by a Japanese Kamikaze, the USS St Lo, a CVE, explodes as seen from the USS Kalinin Bay, ENS Buchanan's ship.

The St. Lo sank in about 20 minutes. James Murphy, a VC-3 pilot, had landed on St. Lo just before she was hit. After being in the water for 24 hours, he was rescued with other of the ships survivors. (B-7)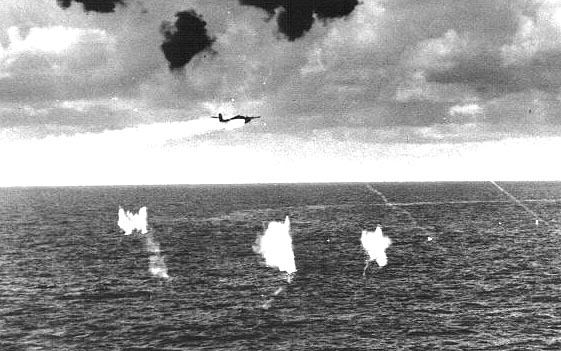 Enemy torpedo plane being shot down off of Saipan on 16 JUN 1944. (A3)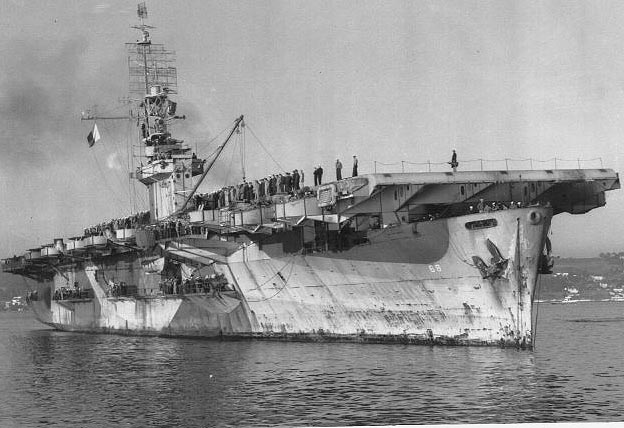 After the Kalinin Bay returns to San Francisco on 25 NOV 1944, VC-3 was detached. The badly dammaged ship then went in for major repairs since she was holed by shells and bombs, but she never returned to combat. The squadron reformed, retrained, and deployed on another CVE to the Western Pacific just before war end. The ship was decommissioned in late 1945, and later scrapped in Boston, MA. (B9)

The photos record a few of the combat actions flown by Composite Squadron Three (VC-3) off the USS Kalinin Bay, CVE-68 off of Siapan Island in the Marrianna's JUN 15-16, 1944, noted by Group "A". This action was also referred to as the "Marrianna's Turkey Shoot". And Group "B" pictures, record a few events during the Battle of Leyte Gulf, OCT 24-25, 1944.

Joel Jacobs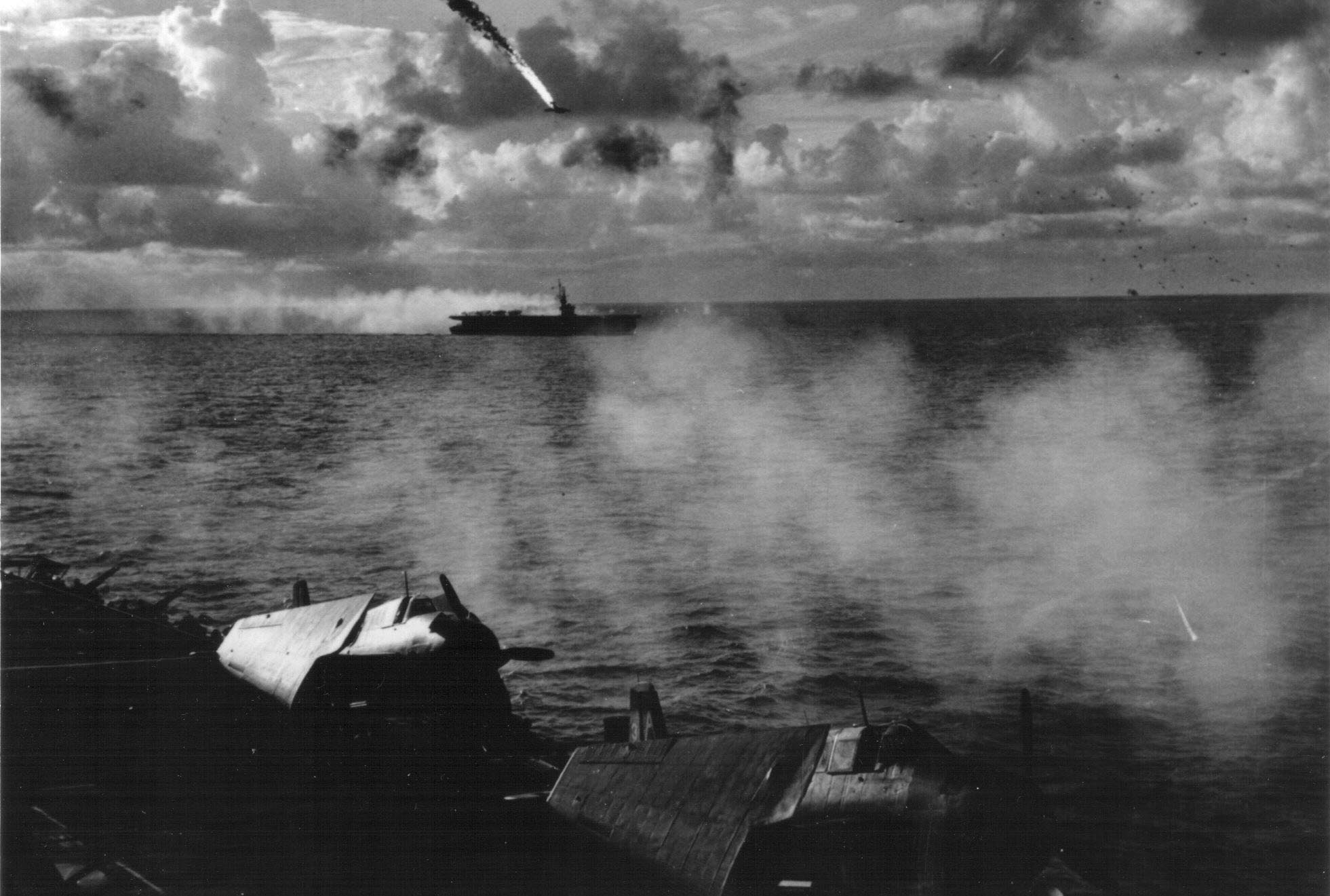 A flaming enemy plane atttempts to crash aboard USS Kitkom Bay, CVE - 71, off Siapan, Marianna Islands, 16 JUN 1944.(A5)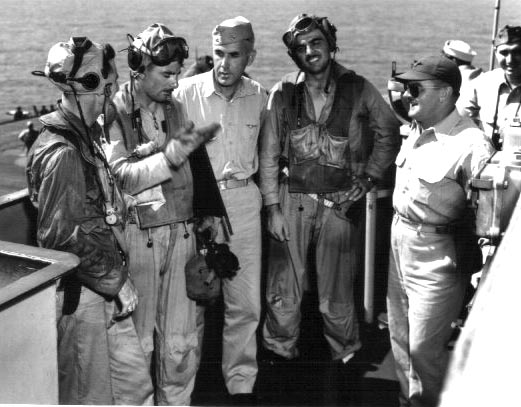 From left to right: ENS John E. Buchanan, LT Ken Hippe, debrief with CAPT T.B. Williams, CO, of USS Kalinin Bay, CVE-68 with LT Jg Volpi, and CDR Cromwell, Air Officer, looking on. CAPT Williamson, is congratulating the group for having shot down 19 out of 21 enemy planes over the island of Leyte on 24 OCT 1944.

Williamson later advanced to 4 Stars and was Commander of the 6th Fleet.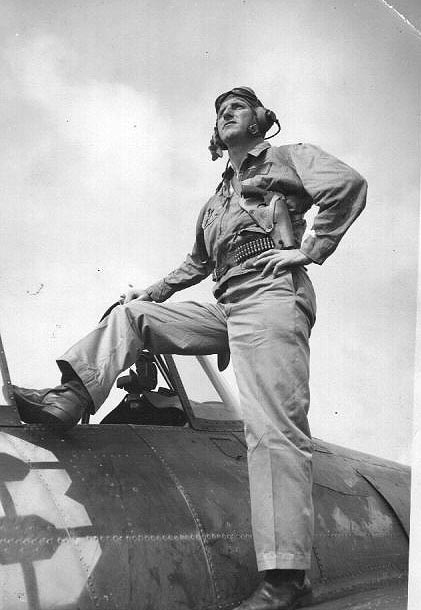 ENS John "Buck" Buchanan and his Grumman FM-2 Widcat fighter aboard the Kalinin Bay somtime in 1944. Buck is a neighbor and close friend of the editor of FLIGHT LINE.
Enter content here